Swiftech Introduces New Apogee SKF Heirloom Series

PICO RIVERA, CA, June 30, 2017
Rouchon Industries Inc., dba Swiftech (OTC Pink Current: RCHN), the leading force in driving the high-end thermal management scene in personal computers today announced the release of their Apogee SKF Heirloom Series.
We are proud to announce our first Heirloom Series event featuring the new Apogee SKF. With its new Heirloom Series, Swiftech is bringing the community unique, personalized, high performance, long-lasting products. The Swiftech Apogee SKF is a highly innovative CPU waterblock featuring a revolutionary cooling engine and customization options that allows users to go beyond their limits. The Apogee SKF features an entirely new cooling engine made of 125 micron (< 5 thousandth?s of an inch!) thick slotted fins. This new technology is at the very least one generation ahead of the competition and will be the foundation of Swiftech's next generation CPU waterblocks.
The initial Heirloom Event offers hundreds of different combinations: 5 different tops finishes, 6 unique cover plates, 8 logo colors, and 2 colors for the mounting brackets. There is even an option to custom engrave the SKF waterblock with up to 16 characters



And with optional custom laser engraving, customers are guaranteed that their Apogee SKF "Heirloom Series" will be unique (16 characters maximum, positioned after the serial number).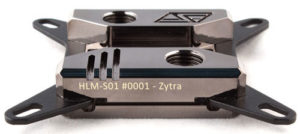 The "Prestige" version of the kits includes all of the above, but features even more advanced product updates, focusing on extraordinary performance at low noise, as well as top shelf hardware. The Prestige line includes the world-renowned Noiseblocker eLoop fans, that take these kits a step ahead of anything the company ever tested in terms of thermal performance in near-silent silent operations. Finally, the "Prestige" versions use Lok-Seal black chrome compression/rotary fittings throughout, for this final touch of luxury feel that characterizes all true custom systems.
These products will available for $94.95 USD via PRE-SALE to end-users worldwide on June 30, 2017. Purchase via our online web store:  http://www.swiftech.com/apogee-skf-heirloom-series.aspx
About Swiftech
Swiftech is one of the leading forces driving the high-end thermal management scene in the personal computing industry. Known for pioneering work, innovation, and dedication to high performance and quality have resulted in award winning products that have set the standard for others to follow. Swiftech is known for thinking outside of the box and remains being driven by its competitive spirit. As a result, Swiftech is considered one of the "founding fathers" of the liquid cooling industry for gaming and personal entertainment computer systems. The Swiftech brand is recognized worldwide and known for performance, innovation, quality and value.
Swiftech is headquartered in Long Beach, CA and works with leading channel partners, distributors and resellers in the U.S., Canada, Europe, Asia, South America and Australia.